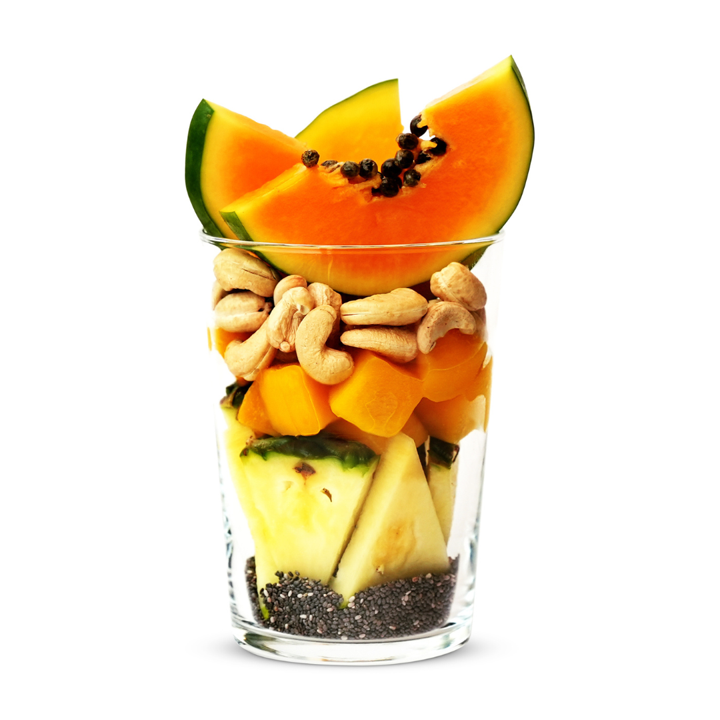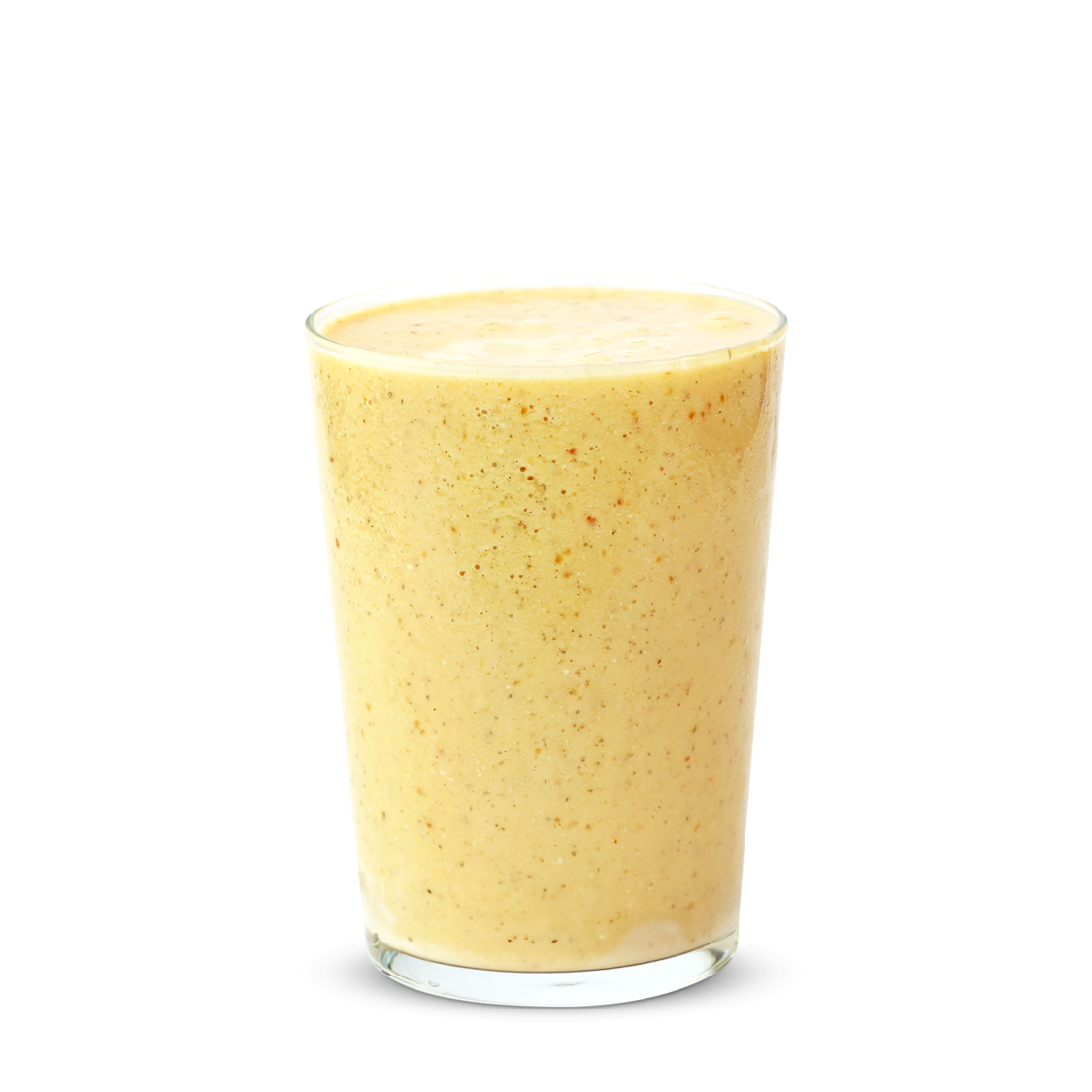 Tropical Paradise
Mango + Papaya + Pineapples
The quintessential summer fruit mix: sweet, tart, and floral. Mix in a splash of coconut water and little cashew butter and you have the ultimate pick-me-up capable of lifting your mood even in the dreariest of Singapore monsoons.
Goes great with oatmilk or coconut water.
Mango: Bursting with floral sweetness, mangoes are also a great source of vitamin C, A, B6, and folate

Papayas: Great for aiding digestion, papayas are also brings a sweet musk that helps extend the flavors profiles, of the other fruits, on your tongue. The ultimate flavor hack

Pineapples: Loaded with vitamin C, manganese, and enzymes that aid digestion. The trick: we watch our pineapples, like a hawk, for the perfect moment for us to cut and freeze them to lock in both the best balance of sweetness and crisp

Coconut Water: Nature's sports drink; great at keeping you hydrated while also tasting amazingly refreshing

Cashew Butter: Our favorite nut butter; made from scratch with nothing but roasted cashews. Rich in protein and heart-healthy fats, we use it to help thicken the smoothie while imparting a slightly earthy taste without overpowering the cacaos

Pineapples, Papaya, Mango, Coconut water, Cashew Butter, Rolled Oats, Chia Seeds, Dates
1) Remove the lid and seal and fill to the brim with your choice of liquid (250ml)

2) Blend using your blender's smoothie mode. If your blender does not have one, blend on low for 30-45 seconds then on high for another 30-60 seconds until smoothie is smooth

3) Pour it back into the cup and enjoy!
Key Ingredients
Mango: Bursting with floral sweetness, mangoes are also a great source of vitamin C, A, B6, and folate

Papayas: Great for aiding digestion, papayas are also brings a sweet musk that helps extend the flavors profiles, of the other fruits, on your tongue. The ultimate flavor hack

Pineapples: Loaded with vitamin C, manganese, and enzymes that aid digestion. The trick: we watch our pineapples, like a hawk, for the perfect moment for us to cut and freeze them to lock in both the best balance of sweetness and crisp

Coconut Water: Nature's sports drink; great at keeping you hydrated while also tasting amazingly refreshing

Cashew Butter: Our favorite nut butter; made from scratch with nothing but roasted cashews. Rich in protein and heart-healthy fats, we use it to help thicken the smoothie while imparting a slightly earthy taste without overpowering the cacaos