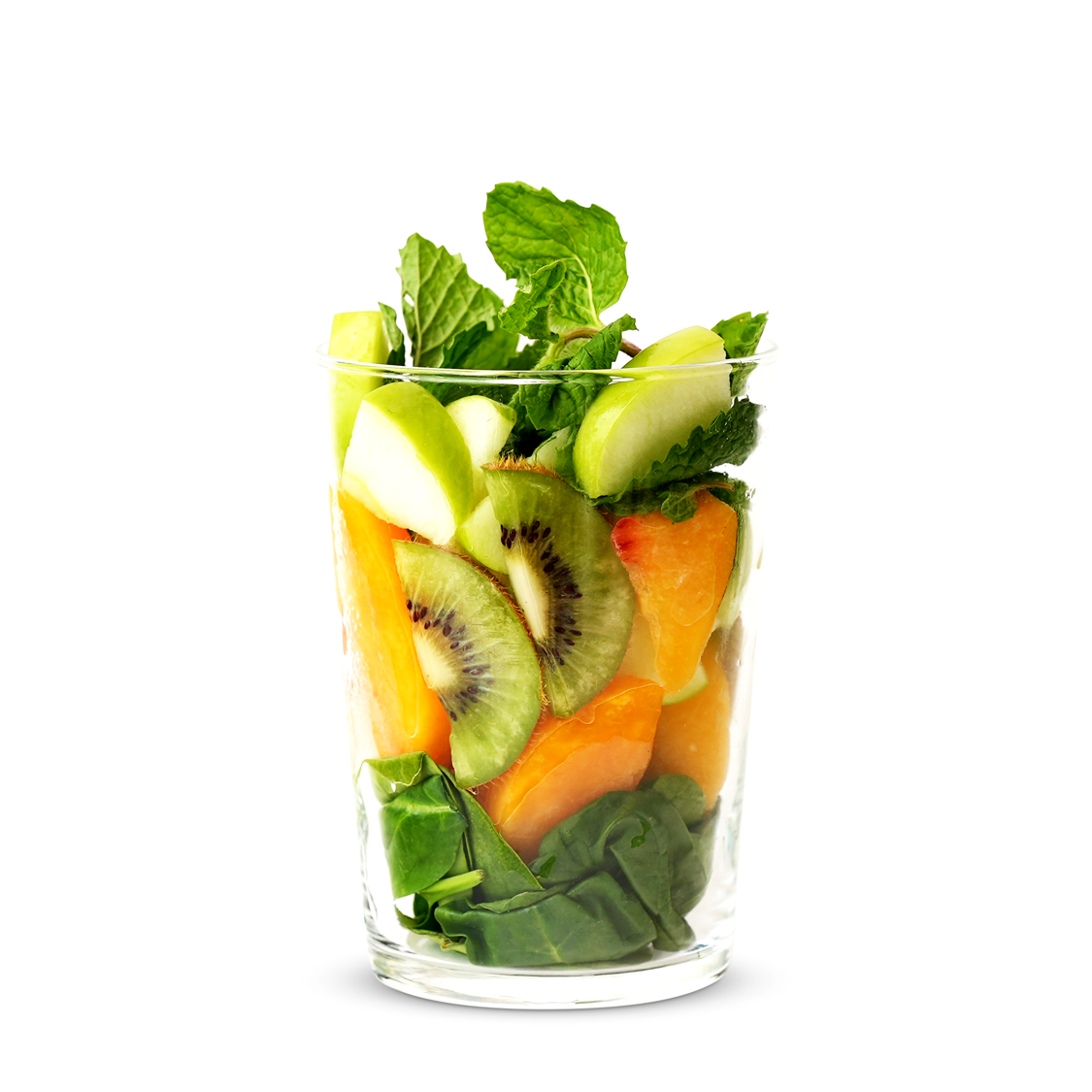 Mint Julep
Big hats, lovely dresses and a horse race, the Kentucky derby was always our sign that summer was about to start. Of course we can't forget the drink of choice, the mint julep. But since we can't use bourbon or sugar, we've swapped them out with quintessential summer fruits: peaches and kiwis. Throw in a spring of mint and let the summer festivities begin!
Peaches: Summer fruits at its peak! We love these yellow juicy balls of flavor and sweetness, as well as for their Vitamin A, C and antioxidants

Kiwi: A great source of vitamin C to help boost your immunity and digestion, we make sure to ripen them slowly to ensure that the natural sugars develop for a well balanced sweet/tart flavor

Spinach: Packed with vitamins A, C K iron and calcium, blend it well and you'll never notice that it was there

Green Apples: Tart, sweet and full of fiber, an apple a day keeps the doctor away
Peaches, Green Apples, Kiwi, Spinach, Rolled Oats, Chia Seeds, Mint, Black Tea
1) Remove the lid and seal and fill to the brim with your choice of liquid (250ml)

2) Blend using your blender's smoothie mode. If your blender does not have one, blend on low for 30-45 seconds then on high for another 30-60 seconds until smoothie is smooth

3) Pour it back into the cup and enjoy!
Key Ingredients
Peaches: Summer fruits at its peak! We love these yellow juicy balls of flavor and sweetness, as well as for their Vitamin A, C and antioxidants

Kiwi: A great source of vitamin C to help boost your immunity and digestion, we make sure to ripen them slowly to ensure that the natural sugars develop for a well balanced sweet/tart flavor

Spinach: Packed with vitamins A, C K iron and calcium, blend it well and you'll never notice that it was there

Green Apples: Tart, sweet and full of fiber, an apple a day keeps the doctor away