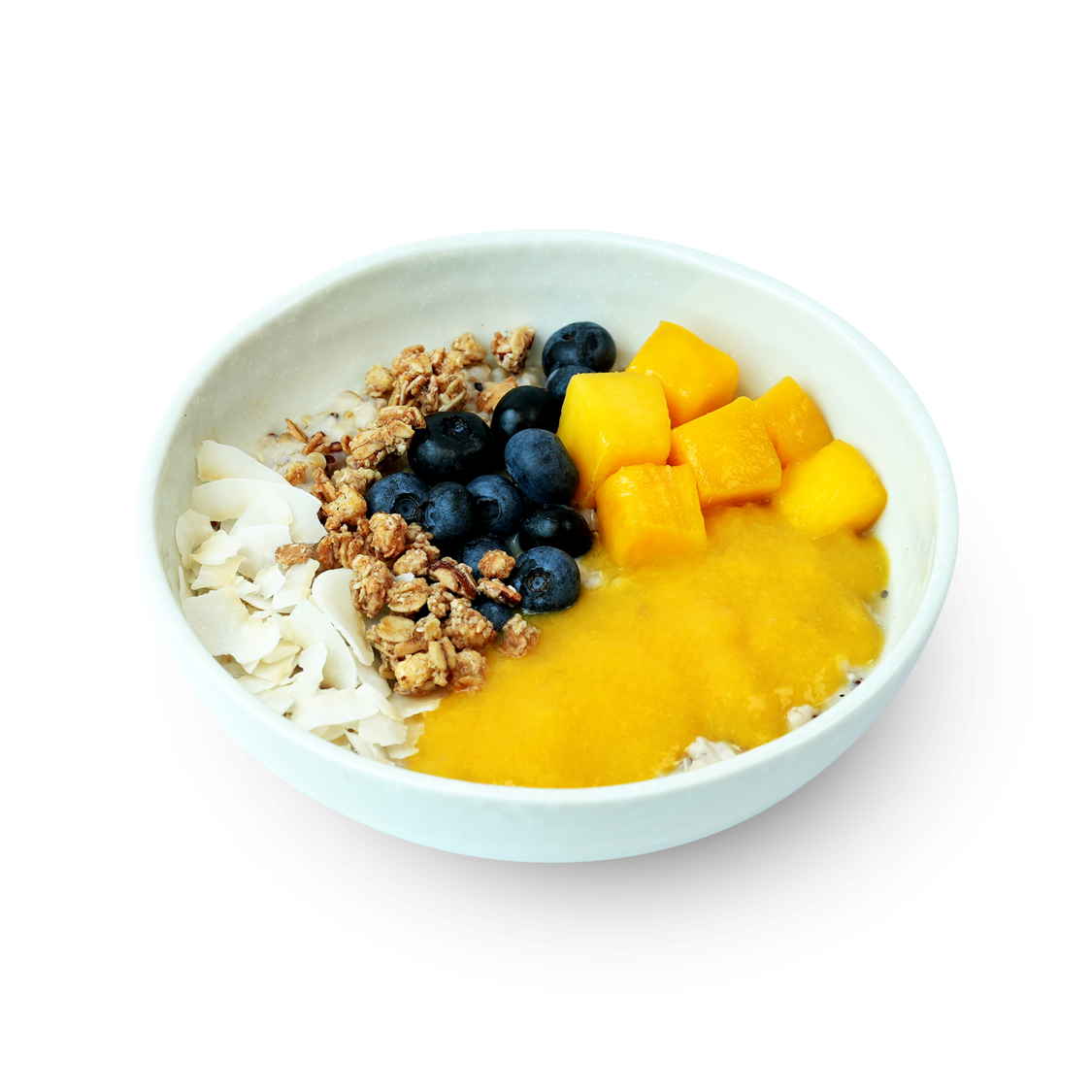 Coco + Mango
Mango season is one that we look forward to every year, and when it comes time...we horde. Thanks to globalization, mangoes have become pretty much always in season, as long as you know which varietal to look out for. Some may be sweeter, some more floral, others a bit tart... but regardless of these differences, mangoes will always taste great mixed in a bowl of steel cut oats.
Mango: Bursting with floral sweetness, mangoes are also a great source of vitamin C, A, B6, and folate

Coconut Milk: Not the usual cooking coconut milk, but smooth, creamy and coconut-ty, this blend of coconut milk and coconut water is lighter on calories but just as flavorful

Blueberries: Rich in antioxidants, fiber and vitamin C, these berries pack a punch in both the flavor and nutrients department

Steel cut oats: Less processed than your regular oats, these little grains take almost 10 times longer to cook. All that slow tender loving cooking yields a more flavorful oatmeal that is great in texture and also richer in fiber and nutrients

Quinoa: An ancient grain that has become synonymous with the term superfood. A fitting name for a seed with more vitamins, minerals, fiber and protein than most other grains out there

Mango, Steel Cut Oats, Blueberries, Quinoa, Shredded Coconut, Granola, Coconut Milk, Blue Agave
1) Remove protective film and add a splash (15-20ml) of your favorite liquid (oat milk, almond milk, cow's milk or water)

2) Microwave uncovered on high for 2-3 minutes,

3) Stir ingredients to ensure even heating , and microwave for another 30 seconds

3) Remove from microwave and allow the oatmeal to cool before digging in
PS: This is the most excruciating part...and we've only really lasted 30 seconds ever"

Key Ingredients
Mango: Bursting with floral sweetness, mangoes are also a great source of vitamin C, A, B6, and folate

Coconut Milk: Not the usual cooking coconut milk, but smooth, creamy and coconut-ty, this blend of coconut milk and coconut water is lighter on calories but just as flavorful

Blueberries: Rich in antioxidants, fiber and vitamin C, these berries pack a punch in both the flavor and nutrients department

Steel cut oats: Less processed than your regular oats, these little grains take almost 10 times longer to cook. All that slow tender loving cooking yields a more flavorful oatmeal that is great in texture and also richer in fiber and nutrients

Quinoa: An ancient grain that has become synonymous with the term superfood. A fitting name for a seed with more vitamins, minerals, fiber and protein than most other grains out there