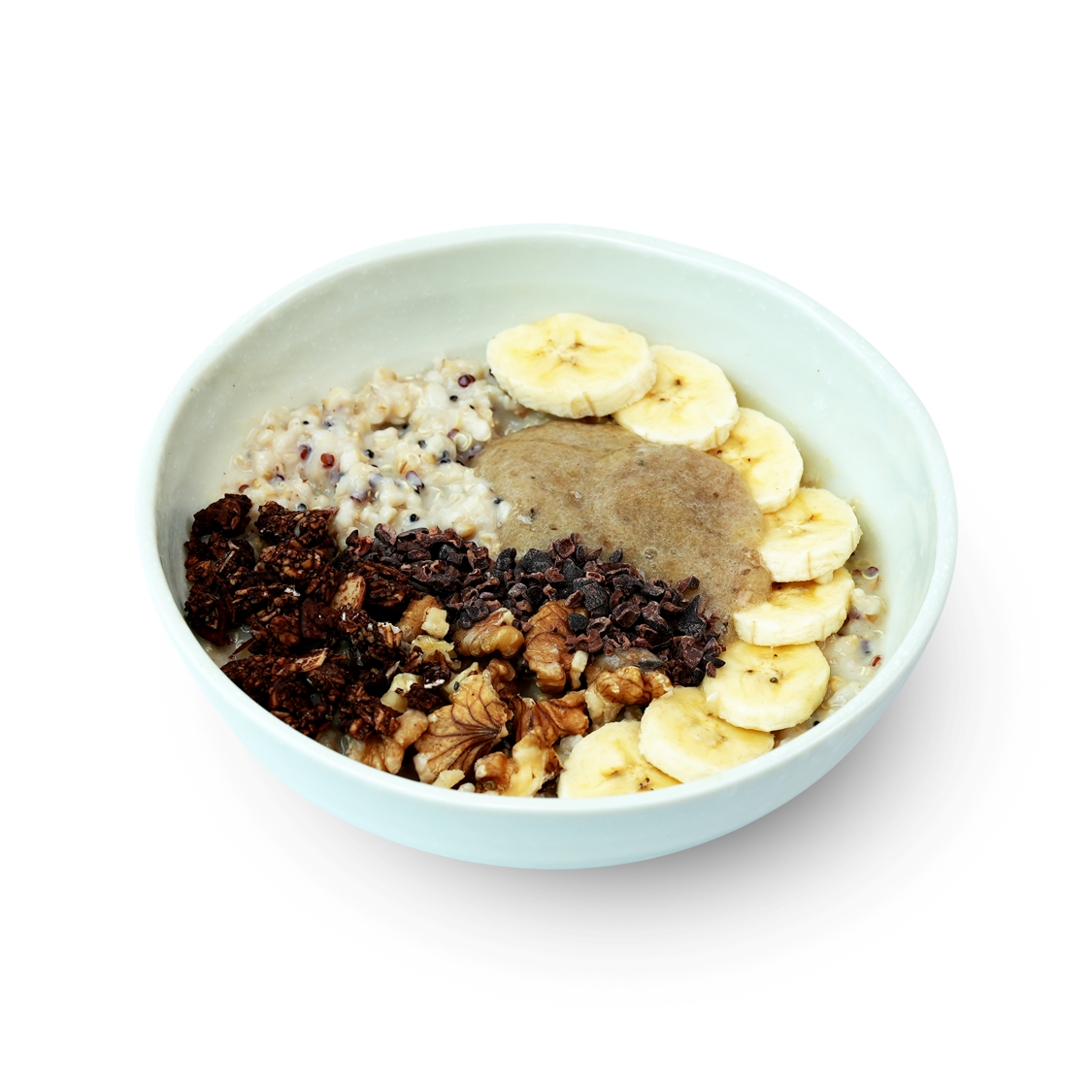 Banana Nut Bread
Bananas are rich in fiber and are super tasty, but alas they are always sold in huge bunches, making them well-nigh impossible to finish. Thankfully we have just the thing to save the day: over ripe bananas are great when spiced (akin to banana nut bread) and spiked with coconut milk. We've paired that with freshly ripened bananas to get 2 textures of bananas in our oatmeal, and none of the logistical nightmares (or guilt of throwing away bananas)!
Bananas: We all love bananas, but getting the whole bunch to ripen and then stay ripe without spoiling is quite often the hardest task. Don't worry, that's why we're here

Walnuts: If the adage of "you are what you eat" has any truth, then walnuts have to be the ultimate brain food. Rich in omega-3 fat and polyphenols, walnuts are also great for both the heart and reducing inflammation.

Cacao Nibs: Crushed raw cacao beans, these little parcels are packed with chocolatey flavor and all the great antioxidants and nutrients without any of the sugar

bananas, steel cut oats, quinoa, walnuts, cacao nibs, coconut milk, granola, cinnamon, nutmeg, ginger, allspice, vanilla extract
1) Remove protective film and add a splash (15-20ml) of your favorite liquid (oat milk, almond milk, cow's milk or water)

2) Microwave uncovered on high for 2-3 minutes,

3) Stir ingredients to ensure even heating , and microwave for another 30 seconds

3) Remove from microwave and allow the oatmeal to cool before digging in
PS: This is the most excruciating part...and we've only really lasted 30 seconds ever"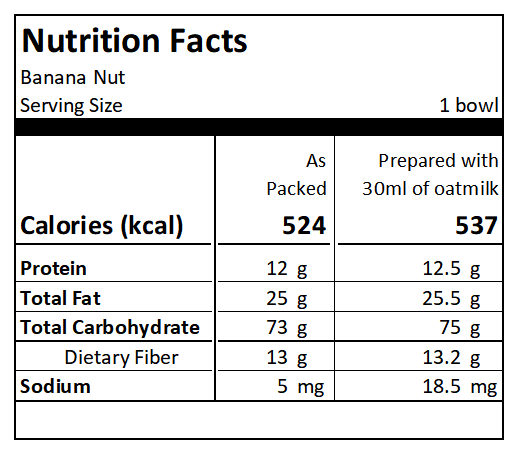 Key Ingredients
Bananas: We all love bananas, but getting the whole bunch to ripen and then stay ripe without spoiling is quite often the hardest task. Don't worry, that's why we're here

Walnuts: If the adage of "you are what you eat" has any truth, then walnuts have to be the ultimate brain food. Rich in omega-3 fat and polyphenols, walnuts are also great for both the heart and reducing inflammation.

Cacao Nibs: Crushed raw cacao beans, these little parcels are packed with chocolatey flavor and all the great antioxidants and nutrients without any of the sugar