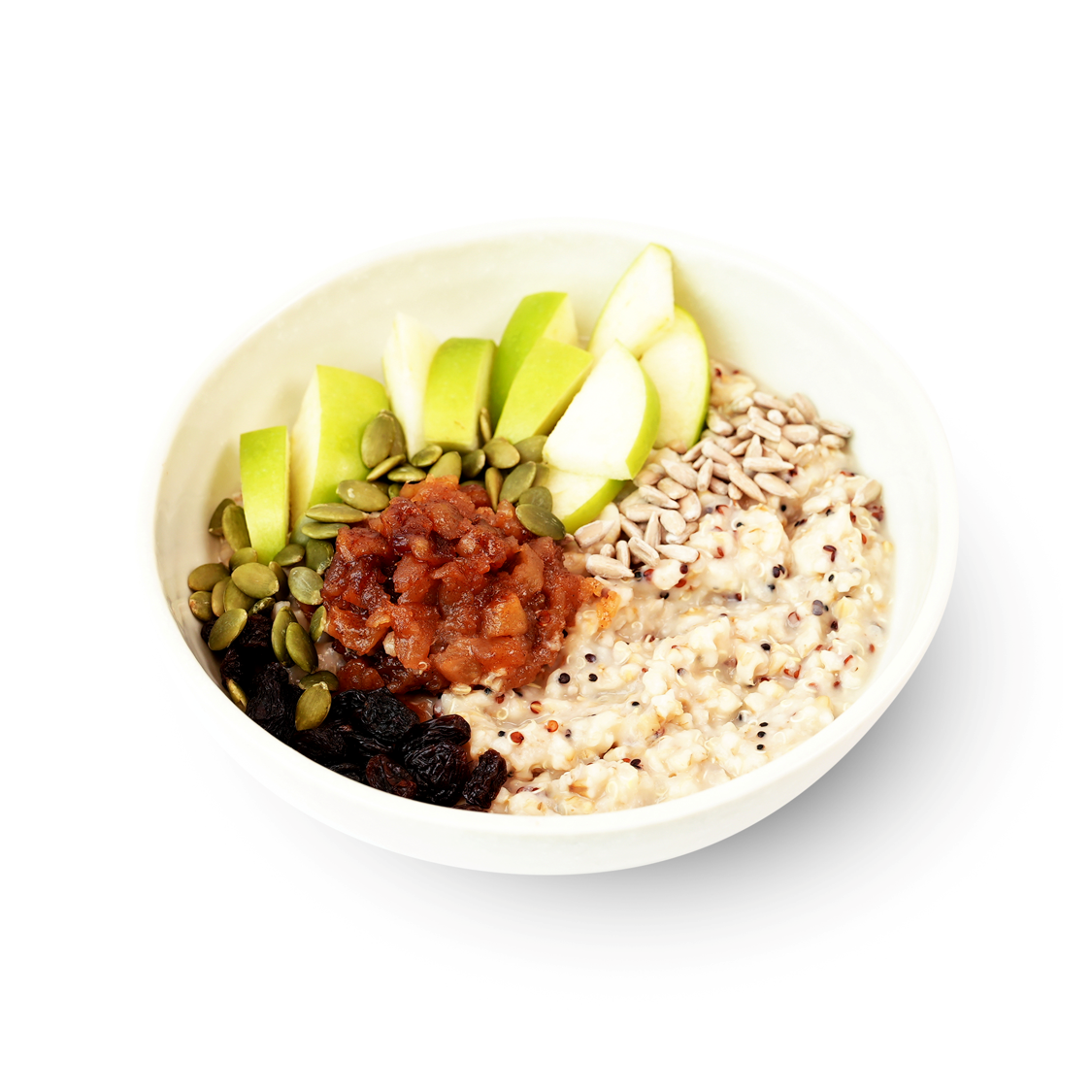 Apple Pie
Steel cut oat bowls are meant to be filled with warmth and comfort, and nothing screams cozy comfort more than a freshly baked apple pie. To make this ultimate hygge oat bowl, we start with the same labor intensive process needed to make the pie filling (replacing the refined sugars with the more natural agave) then add in heaps of fresh apples, pumpkin seeds, sunflower seeds and top it all off with a dash of raisins. 
Stewed green apples: Stewing helps to increase the flavor intensity of the cinnamon and apples, while also breaking down the fiber into a more soluble form for digestion

Fresh Green Apples: Tart, sweet and full of fiber, an apple a day keeps the doctor away

Pumpkin seeds: Pumpkin seeds are rich in antioxidants, iron, zinc, magnesium

Cinnamon: As a natural anti-inflammatory, a dash of cinnamon is both a great flavor and immunity booster
Green apples, Steel cut oats, quinoa, raisins, pumpkin seeds, sunflower seeds, agave, cornstarch, olive oil, cinnamon
1) Remove protective film and add a splash (15-20ml) of your favorite liquid (oat milk, almond milk, cow's milk or water)

2) Microwave uncovered on high for 2-3 minutes,

3) Stir ingredients to ensure even heating , and microwave for another 30 seconds

3) Remove from microwave and allow the oatmeal to cool before digging in
PS: This is the most excruciating part...and we've only really lasted 30 seconds ever"

Key Ingredients
Stewed green apples: Stewing helps to increase the flavor intensity of the cinnamon and apples, while also breaking down the fiber into a more soluble form for digestion

Fresh Green Apples: Tart, sweet and full of fiber, an apple a day keeps the doctor away

Pumpkin seeds: Pumpkin seeds are rich in antioxidants, iron, zinc, magnesium

Cinnamon: As a natural anti-inflammatory, a dash of cinnamon is both a great flavor and immunity booster